WCI Celebrates 20 Years At Annual Symposium In New Orleans
View Source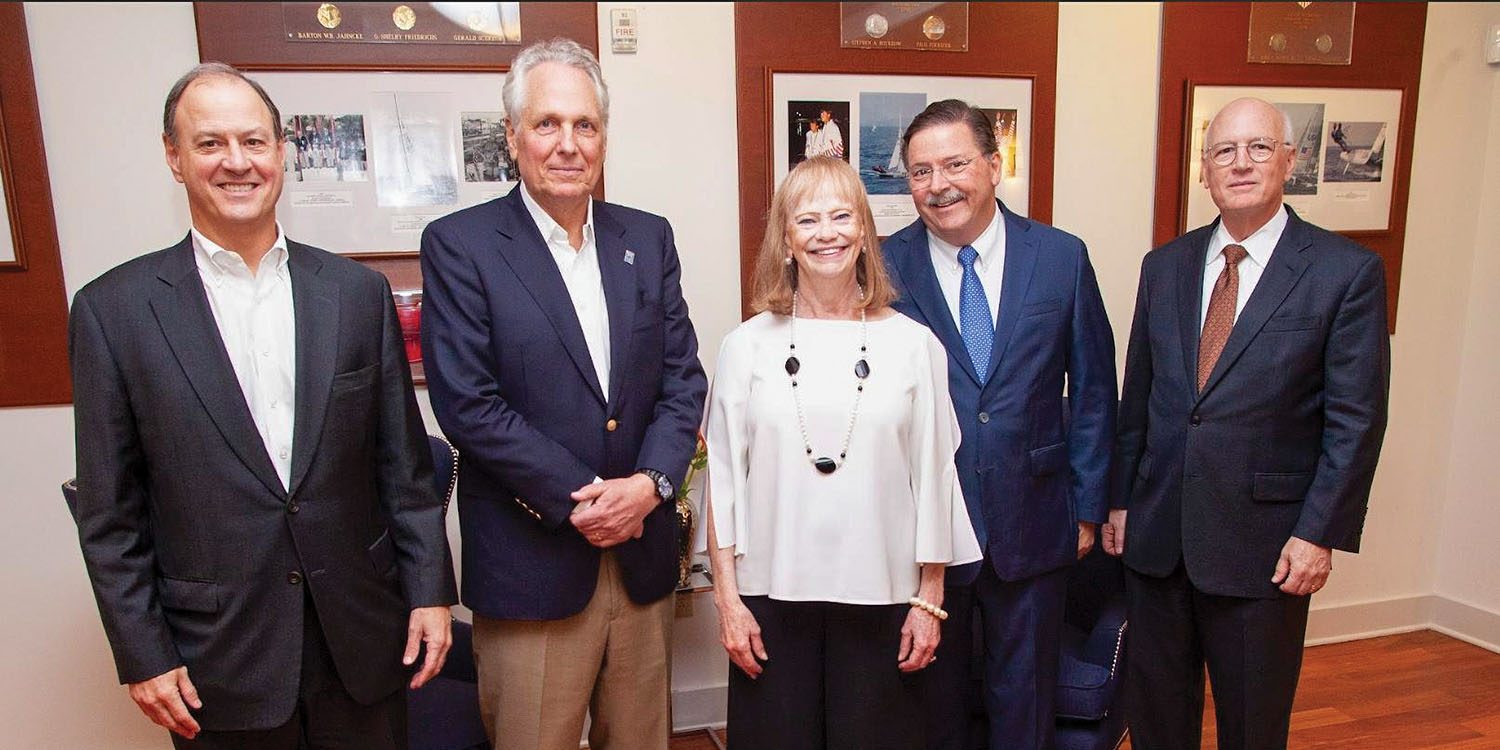 WCI Celebrates 20 Years At Annual Symposium In New Orleans
Members of Waterways Council Inc. (WCI) and maritime industry stakeholders gathered at the Four Seasons in New Orleans November 13-15 for WCI's annual Waterways Symposium. This year's symposium, while focusing as always on issues related to the nation's waterway industry and infrastructure, also celebrated WCI's 20th anniversary. WCI was founded in 2003 as an outgrowth of the 2001 Waterways Work! campaign.
Tracy Zea, WCI's president and CEO, said the diverse group that gathered for the symposium, from new members to leaders who have been part of WCI since the beginning, was a fitting way to celebrate the organization's 20th birthday.
"The symposium was awesome," Zea said. "It was good to have former chairmen back together, such as Dan Mecklenborg, who's retired. It was good to see them and other familiar faces."
In fact, four former chairmen were present for the symposium, along with current chair Cherrie Felder, vice president of Channel Shipyard.
Zea said that membership growth—and the diversity of WCI's members—demonstrates support for the work of the organization..
"It's kind of rare that you get everyone from operators to shippers to environmentalists and America's skilled building trades all in one room advocating for the same issue and not fighting," Zea said.
Zea said the expanding work of the organization is still carried out by a close-knit, nimble staff.
"One thing I've always thought was interesting is that we've had 10 chairmen at WCI over the 20 years and only 13 employees, and that includes the six that we currently have," he said. "It remains a consistent organization, with a small but mighty staff."
Zea said WCI was founded to advocate for a modern, efficient and reliable inland waterway transportation system, with a key vehicle for that being using Inland Waterways Trust Fund dollars raised from the 29-cents-per-gallon fuel tax on commercial navigation.
"That is still our top focus and mission," he said.
WCI's 2023 Waterways Symposium
The Waterways Symposium started off with a pair of economists. Peter Ricchiuti, a professor of practice at Tulane University's Freeman School of Business, offered a broad economic outlook. Ricchiuti was generally optimistic about the strength and resilience of not only the U.S. economy but the American idea as well.
"Democracy and capitalism are the only two systems that work," he said.
Ricchiuti went on to state that he's optimistic the country will avoid a recession.
Following Ricchiuti, Kenneth Simonson, chief economist for the Associated General Contractors of America, looked more specifically at the construction outlook in the United States.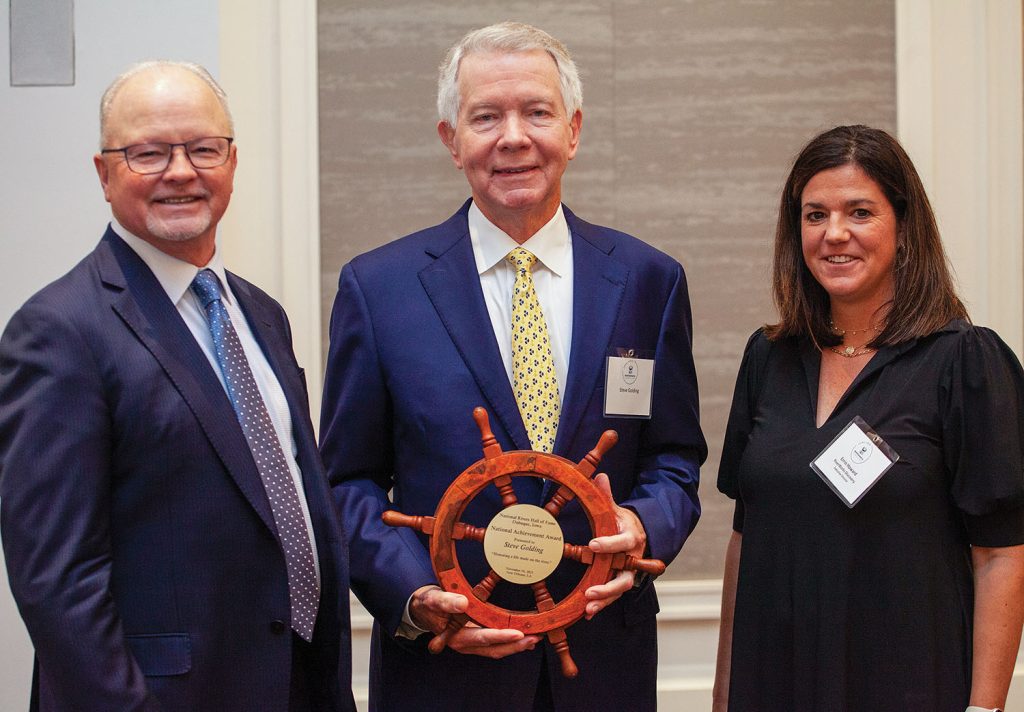 Kurt Strand, president and CEO of the National Mississippi River Museum & Aquarium, and Errin Howard, executive director of RiverWorks Discovery, then presented the National Rivers Hall of Fame's National Achievement Award to Steve Golding, chair of Vicksburg, Miss.-based Golding Barge Line.
Golding started his career in the maritime industry at age 15, working for his father's company, Big River Shipyard. By his 20s, Golding was leading the family business. He built the barge line through the 80s, and in 1992, he sold the business to Kirby. After fulfilling a non-compete agreement, Golding launched Golding Barge Line in 1995. The company began operating vessels in 2001 and built its first towboat in 2004. Today, the company, which is led by Steve's son, Austin, owns 31 towboats and 70 tank barges.
Upon accepting the award, Golding first recognized his wife, Melody.
"Being in this industry, being married to anybody in this industry is tough," Golding said. "You've been with me in the good times and the bad times, every step of the way, and I can't thank you enough. I couldn't have done it without you. We've been a team for a long time."
Golding shared some highlights from his career, starting with the day in May 1966 when he went to work for his father.
"I walked into the shipyard, found my card and punched the time clock," Golding said. "I went on over to the machine shop and visited with those guys in the machine shop. Then I walked over to the tool room—it was air conditioned—and visited with those guys. Then I decided, 'I'm going to walk down to the drydock and see what they're working on today. I eased on down there, just having a big time talking to those guys.
"After about a day and a half of that, just cruising around the shipyard, my dad came up to me and said, 'Son, I hate to do this, but you're fired,'" he said.
Golding said, after two or three days at home, he begged his father to give him another chance. After a couple days of him asking, Golding's father relented.
"I was out there 30 minutes before it was time to punch in," Golding said. "And I've been getting it ever since. That lesson he taught me as a 15-year-old paid dividends the rest of my life, and I don't know where I would've wound up had he not done what he did."
Fast forward to the present, and Golding's son, Austin, is now running Golding Barge Line.
"Quite frankly, he's doing a fantastic job," Golding said. "Probably better if not a lot better than I did at that age. If we didn't have Austin, I'd probably call Kirby again."
The keynote speaker during the symposium's lunch break was Michael Connor, assistant secretary of the Army for civil works. Connor began his presentation by outlining his top priorities for the Army's civil works program, which include upgrading the nation's waterways and ports to strengthen supply chains and economic growth; building innovative and climate-resistant infrastructure; modernizing the civil works programs to better meet the needs of disadvantaged communities; investing in science, research and development to deliver enduring water resource solutions; and strengthening communications and relationships to solve water resource challenges.
Connor dug into the 10 major construction projects the Corps is tackling at the moment, along with inflation and labor issues that are playing a role in driving up construction costs. Still, Connor said he's laser focused on finishing jobs.
"I am obsessed now with the idea of completing projects," Connor said to a round of applause.
Connor said the need to build efficiencies in the nation's inland waterway system is illustrated by the cost of transporting soybeans from Davenport, Iowa, to China versus from Brazil to China. In 2008, the cost from Davenport to China was 33 percent less than from Brazil to China.
"Now in 2023, we are 105 percent of Brazil's costs because of investments they've made and new capacity," he said.
Investments ongoing now and in the future will improve efficiency and boost competitiveness, but it will take time and consistent funding.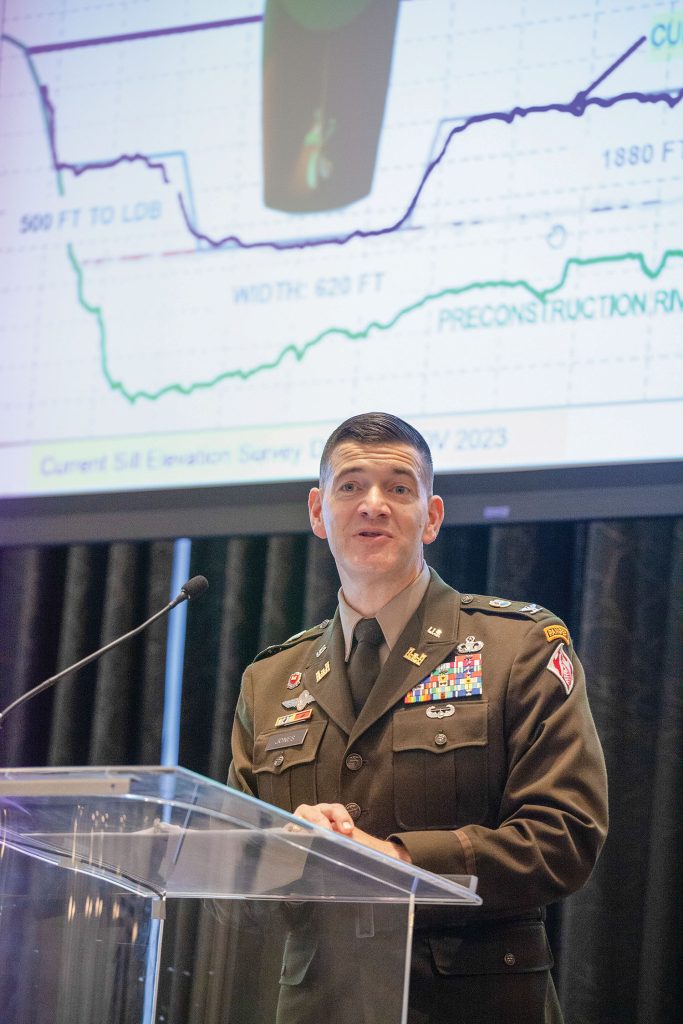 Afternoon sessions included a report by Sean Duffy, executive director of the Big River Coalition, on the loss of flow in the Mississippi River due to diversions and natural crevasses in the river's east bank below where the levees end. Col. Cullen Jones, commander of the New Orleans Engineer District, then gave an update on the effort to deepen the river to 50 feet up to Baton Rouge, La., and the district's efforts to hold salt water in the river at bay.
Michael Hecht, president and CEO of Greater New Orleans Inc., then gave an overview of the positives and negatives facing the New Orleans region at this time.
The Waterways Symposium culminated with a 20th anniversary dinner at the Southern Yacht Club on the shore of Lake Pontchartrain.
For more information on WCI, including dates and registration details for the group's annual Capitol Hill fly-in, go online to www.waterwayscouncil.org.
Caption for top photo: Former and current WCI chairmen, from left: Merritt Lane, Peter Stephaich, Cherrie Felder, Dan Mecklenborg and Matt Woodruff. (Photos by Frank McCormack)