Without Help from Mother Nature, A Nation's Commerce Withers on the River (opinion)
View Source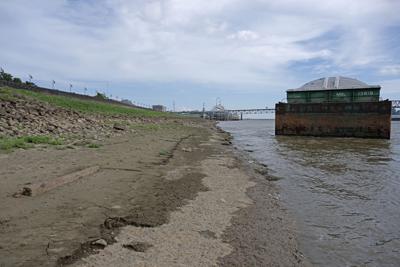 Canal Barge of New Orleans has been in business since 1933, but it is an inheritor of literally centuries of tradition of shipping on America's inland waterways.
And the company, and others like it, are having a really tough year.
Hot, dry weather has left the Mississippi River so low that barges are reducing their loads just as Midwest farmers are preparing to harvest crops and send tons of corn and soybeans downriver to the Gulf of Mexico.
''We're keeping things moving but could use some rain, some help from Mother Nature,'' Merritt Lane, president of Canal Barge, told The Associated Press.
He was among the experts in commerce and government who described the challenges of a second year of drought.
Like others, Canal Barge, which works much of the Mississippi as well as the Illinois and Ohio rivers, has had to lighten loads so barges ride higher in the water. The company also can't link as many barges together because the shipping lane is narrower, Lane said.
A narrowed shipping lane also means barges from different companies must squeeze into limited space, creating backups and forcing expensive delays, as the farm commodities of the vast central plain of North America typically flow down the Mississippi.
That's been the case for a long time, before even young Abraham Lincoln's flatboat days.
For farmers, it's a threat to their livelihoods.
Poor quality ratings for drought-stricken soybeans and corn cost producers millions of dollars, even before the grains are shipped at a higher cost due to those lighter bargeloads.
A farmer in southeastern Minnesota, Bruce Peterson, spoke wryly for many of his peers: "We haven't had rain here for several weeks so our crop size is shrinking. Unfortunately, that has taken care of part of the (shipping) issue.''
Farmers have some options, including trains and trucking, and some limited amount of grains that can be sold for ethanol production or for animal feed. But the higher-rated grains of better quality, the kind prized for export worldwide down the river, are fewer. And because of the drought, they are much more costly to ship to ports from Baton Rouge to New Orleans, outlets to commerce internationally.
The U.S. Army Corps of Engineers has been dredging north of St. Louis, but is now working to the south, the AP reported. But if that's keeping the lighter barges going, barely, it's an expensive proposition — and thus an economic blow to the nation.
During the coronavirus pandemic, the world learned what shipping shortages and bottlenecks could do to vital flows of trade.
Now, Mother Nature has not been helping with nearly enough rain for the fall ritual of getting grain to markets.