Corps Dredges Get Busy On Mississippi River
View Source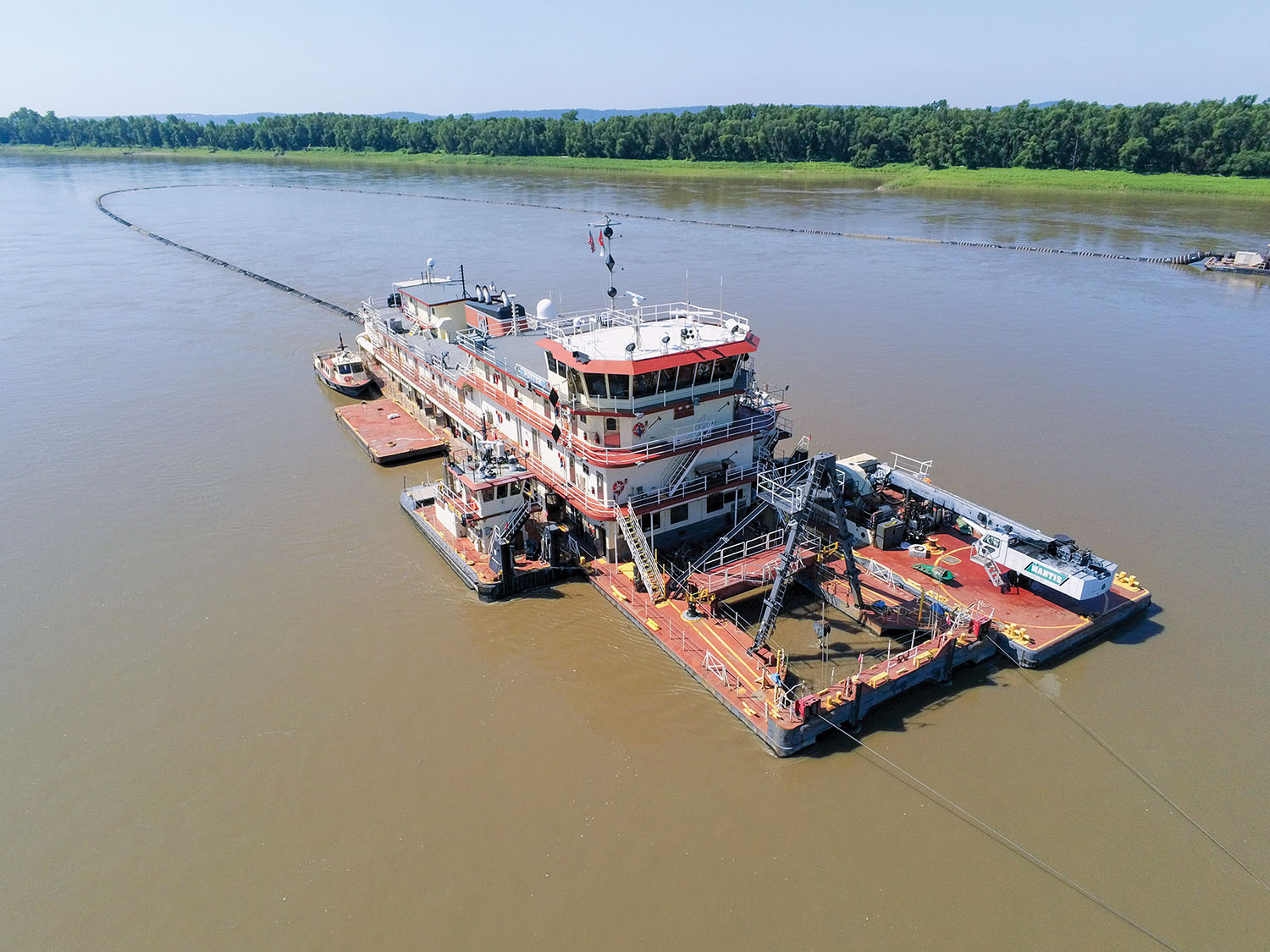 DREDGING & MARINE CONSTRUCTION
Corps Dredges Get Busy On Mississippi River
SEPTEMBER 1, 2023 BY DAVID MURRAY
As harvest season commences, the Corps of Engineers and its contractors are busy with Mississippi River dredging.
The St. Paul Engineer District has four mechanical dredges doing channel maintenance in the pools, including a federal dredge at Pool 5A and two contract dredges at Pools 4 and 7. Another contract dredge is also doing channel maintenance, but using the material to build habitat around Prairie du Chien, just above the confluence with the Wisconsin River, according to St. Paul District dredging manager Dan Cottrell.
The Corps Dredge Goetz, borrowed from the St. Paul District, will be working at the northern end of the St. Louis District on or about September 8, working in Pools 24 and 25, according to St. Louis District spokesman George Stringham.
The district's Dredge Potter has been performing channel maintenance dredging since July 16 at various locations on the Upper Mississippi River. The Potter has completed work at Upper Mississippi Miles 171, 173 and 166 and also at Anchor Landing, Upper Mississippi Mile 103-102, and Bishops Landing, Upper Mississippi Mile 100.
Get the latest infrastructure and dredging news in your inbox.Powered by the Waterways Journal and International Dredging Review, our monthly Infrastructure Report newsletter covers dredging, construction and civil engineering.
As of August 30, the Potter was mobilizing to begin work at Mile 125, near the Modoc Ferry at Ste. Genevieve, Mo. Work at this location is estimated to be completed by September 7. The Potter and its attendant plant, including tender boats, small boats, barges and pipeline, etc., work 24 hours a day, seven days a week. When dredging, removed material is pumped through a pontoon pipeline or self-floating pipeline, which may be crossing the channel, and is placed outside of the navigation channel. Mariners should be on the lookout for tender boats, barges, small survey boats, and pipeline when transiting the dredge area.
In the Memphis Engineer District, the Dredge Hurley dredged 14.5 million cubic yards of sediment—the most ever in a single season–over a record-breaking 273-day season that lasted from April 26, 2022, through January 13, 2023. One of the purposes of the Memphis District's new bank grader, Grader 1, delivered in April (see this issue), is to help minimize required dredging in the future.
Further downriver, the Corps dredge Dubuque was dredging Vicksburg Harbor through August 28. The Allison Crosby, operated by Crosby Dredging of Galliano, La., was dredging the Ouachita River, also through August 28.
The Pine Bluff Sand & Gravel Company has been executing a maintenance dredging contract in the Baton Rouge and New Orleans areas of the Mississippi River that began February and runs through November 5. Its dustpan dredge Wallace McGeorge continues dredging full channel dimensions at Red Eye Crossing (Mile 224 Above Head of Passes [AHP]), which it has been doing since May 24.
The Manson Construction dredge Glenn Edwards completed dredging at Belmont Crossing (Mile 154 AHP) August 28 and moved upriver to commence dredging full channel dimensions at Philadelphia Crossing (Mile 183 AHP). It was expected to resume dredging in Southwest Pass. The Great Lakes Dredge & Dock dredge Dodge Island was also working at Southwest Pass, along with the same company's Padre Island.
Weeks Marine Wins $35 Million Contract
On August 16, the New Orleans District awarded Weeks Marine Inc., of Covington, La., a $35,760,001 firm-fixed-price contract to remove and dispose of material from the Hopper Dredge Disposal Area. Weeks is using the cutterhead dredge Captain Frank for the contract. Work will be performed in Venice, La., with an estimated completion date of March 5, 2024. The material will be beneficially used in the West Bay Receiving Area, which may require one 12-hour closure to install a submerged dredge pipeline across the ship channel. The installation is tentatively scheduled for mid-September.
The National Oceanic and Aeronautic Administration's National Weather Service's 28-day Extended Streamflow Prediction for the New Orleans Carrollton Gage, issued August 28, forecasts that from a slow rise that crested at 4.4 feet from August 25 through 28, Carrollton stages will resume a slow fall to 2.1 feet on September 19.
Caption for photo: The Dredge Potter working on the middle Mississippi River. (Photo courtesy of St. Louis Engineer District)