Inland operators survive another historic drought
View Source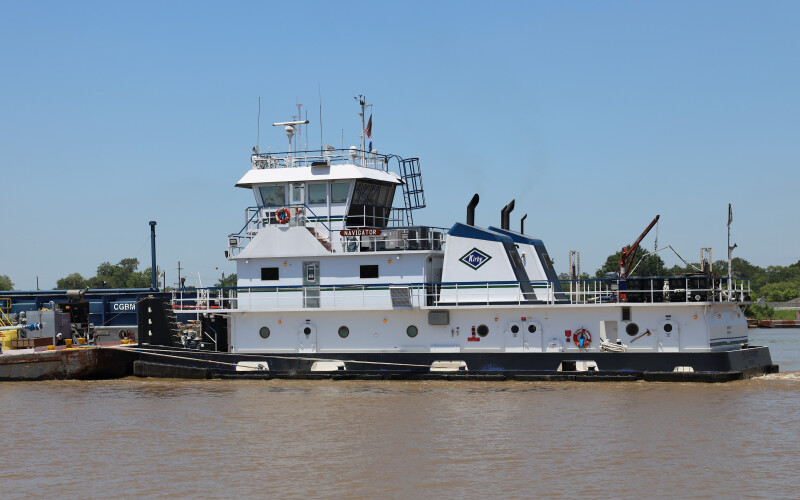 The biggest event of the past year for the inland waterways industry was the historic drought along the Mississippi River Basin that began in October. It lasted until earlier this year, causing havoc to barge traffic with vessel groundings, more than 40 days of river closures, massive backups, limits on barge loads, costly delays, and logistical headaches for shippers and barge operators.
At one point in October, just as the grain harvest season got started, more than 2,000 barges carrying corn and soybeans were stalled. The Mississippi River is the workhorse of the U.S. grain market, with 60% of the nation's grain harvest and 54% of soybeans moving by barge. Operators said they hadn't seen such low water levels since 1988. The Army Corps of Engineers remained busy for nearly six months dredging the river to restore navigation.
Barge officials credit a successful partnership between vessel operators, the Coast Guard, and Corps, as well as industry's use of long-standing training and resources that helped avoid more damaging disruptions and kept cargo moving, although at a much slower pace and with smaller loads. "It could have been a more significant crisis for the country, not just for our company and our revenues," Christian O'Neil, president, marine transportation group at Kirby Corp., Houston, said at a December Marine Money conference. "It's been incredible to watch the coordination."
With water levels restored, barge traffic is back to normal along this important stretch of the U.S. waterways, and operators there and across the navigable inland system report that demand to move commodities is strong and steady.
"Demand has been pretty robust in many sectors, and folks have some optimism that this will continue," said Jennifer Carpenter, president and CEO of the American Waterways Operators. "With demand for our services, we need to make sure we have people who can crew the boats and we need to continue to work well with the Coast Guard and Corps so we can manage high water when it comes."
Other factors have been favorable for the industry since the drought dissipated. A heavy infusion of federal funds for modernizing waterways locks and dams over the past two years has benefited and advanced many projects along the river system. A mild winter has meant less ice and snow, making operational conditions easier on many stretches of the rivers. Freight rates have remained high, boosting revenues, largely due to the tighter availability of barges as fewer are being built or replaced due to the high cost of steel. Other barges, especially in the tank barge fleet, are being removed for regulatory inspections.
MORE DEMAND, MORE PROFITS
There have also been some new opportunities. "We are seeing an uptick in deck barge business as well, primarily to support infrastructure projects in- cluding bridges, LNG export facilities and industrial plants," Merritt Lane, president and CEO, Canal Barge Co. Inc., New Orleans, told WorkBoat. "As bright spots, I see a supply and demand equilibrium [of barges] and a return to pre-Covid profits.
"Increased investment in critical waterways infrastructure, strong refinery utilization resulting in more inbound and outbound cargo to move, and increasing investment in alternative fuel sources, including biofuels, wind turbines and blades and LNG plant components," will also favor barging, he said.
In addition, Covid has faded as a concern, movements of energy products and petrochemicals is strong, new steel plants are being built or expanded along the Ohio River, and coal has seen a surprising uptick in demand despite the closure of many domestic coal-fired utility plants. This has provided a welcome bump for dry cargo operators who haul coal for export and to U.S. steel and utility customers.
"Since the Russians invaded Ukraine, we've seen tremendous demand," said Peter Stephaich, chairman and CEO of Campbell Transportation Co., Houston, Pa. Many domestic utilities signed contracts with coal companies last year that must be fulfilled, which keeps barges busy.
"I'm of the belief that the death of coal is prematurely discussed in the media. Some coal-fired plants are making investments to run them in the longer term, others are saying we'll run them as long as we can and then pull the plug," Stephaich said. "Coal will go away no doubt, it's a matter of how quickly."
There are some concerns, however.
Inflation is eating into profits, jacking up the prices of labor, services, materials, and the cost to build new equipment. Despite a robust increase in federal investment in inland waterways infrastructure, due mostly to last year's massive infrastructure bill passed by Congress, inflation has pushed up the cost of project construction, forcing the Corps to revamp cost estimates.
"It means that a lot of projects that we know the cost of completion will now cost a lot more money, and the timeframe will change" for some, said Cherrie Felder, vice president Channel Shipyard Co., New Orleans, and chair of the Waterways Council Inc.
In addition, stubborn, pandemic-related supply chain problems have made it more difficult to source parts for maintenance and repairs, including engines, paint, and replacement windows. "We're seeing delays of 18 months for delivery of things that before were in inventory and we could get off the shelf," said Buckley McAllister, president McAllister Towing and Transportation Co., New York.
A dip in demand for grains and soybeans from China due to an illness among hogs and a declining human population could mean less demand for grain barges going forward, and there is the possibility that continued severe weather could produce more punishing hurricanes, droughts, and coastal erosion.
MARINER SHORTAGE
But the most nagging concern remains the difficulty hiring and retaining workers and creating an employment pipeline as senior mariners retire. Like many other industries during this national labor shortage, the barge industry has gotten creative, reaching out more on social media, hiring full-time re- cruiters, improving training programs, expanding geographic recruiting, at- tending job fairs, visiting schools, and revising salaries and benefits. Success has been limited, and some companies have had to turn down business opportunities.
"We absolutely have had to say no," said McAllister, whose company is benefiting from a surge in cargo volume coming into the New York area. "We've had to turn them down because we don't have enough mariners" to crew the vessels.
"Some of our mariners retired during the pandemic, and this being a heavily regulated workforce, it takes time to build up licenses, especially a towing endorsement," he said. "As the industry rebounded [from Covid)], you couldn't just make sailors appear for licensed positions."
Many of these challenges will not go away soon, especially supply chain and recruitment problems, predicted Ken Ericksen, a senior vice president at S&P Global Commodity Insights, who follows agriculture and the barge industry. "I see this going well beyond 2023," he said.