Crounse Corporation Celebrates 75 Years in Business
View Source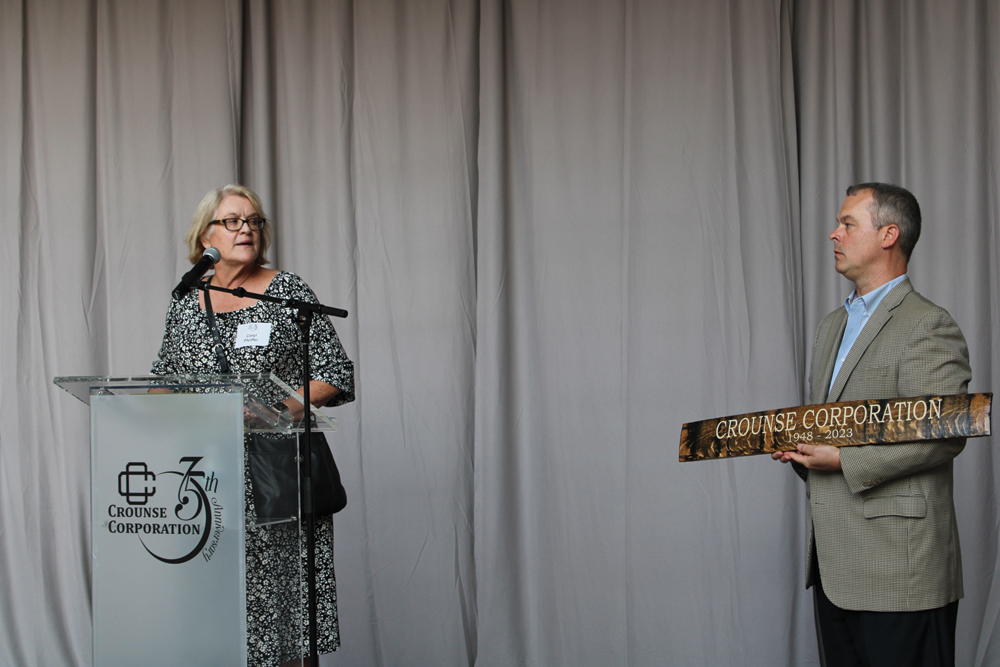 Crounse Corporation Celebrates 75 Years In Business
JUNE 23, 2023 BY SHELLEY BYRNE
Crounse Corporation celebrated 75 years of doing business by honoring employees past and present and paying tribute to its legacy of accomplishments at a ceremony June 16 at the Carson Center in Paducah, Ky.
President and CEO Matt Ricketts said in his welcome that the evening was all about fellowship and wouldn't have been possible without all of those hard-working employees who have made the company's growth possible. Several of those employees were then featured in a video.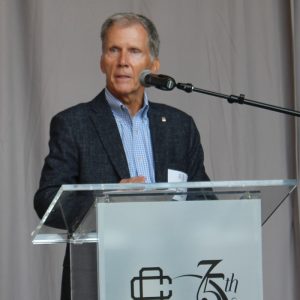 Steve Little, who served as CEO from 2002 to 2016 and is currently chairman of the company's board of directors, then spoke a bit about the company's history.
Crounse Corporation was established in 1948 in Paducah by George Crounse. He built the company from a single leased boat to one of the nation's largest barge lines.
Crounse, a Minneapolis native, had worked for the Tennessee Valley Authority beginning in the 1930s and saw how its system of locks and dams improved navigation on the Tennessee River. He then went to work for Arrow Transportation, a river towing company based in Sheffield, Ala.
Following his service in the U.S. Navy in World War II, he settled in Paducah because of its ideal location at the confluence of the Tennessee and Ohio rivers. Crounse worked initially for Igert Towing, which operated stern-wheel diesel towboats.
"He thought it would be possible to build a small and equally efficient, propeller-driven towboat of about 500 hp.," Little said.
He took his plans to the Igert leadership, who rejected the idea. Thus, Crounse left Igert and founded his own company.
At the time, Crounse was 35 years old and married with small children. He used $40,000 of his own money, borrowed $60,000 from his Aunt Alice and contracted with St. Louis Shipbuilding to build a propeller-driven towboat for $88,000. That left him with $12,000 in working cash for the year it would take to build it.
In the meantime, Crounse worked as a marine surveyor and, until his boat was complete, chartered a boat, moving chemical barges on the Ohio River. That first boat, appropriately named the Alice, was completed in 1949. Steady growth of the company led to purchasing barges in 1951 and finishing a second towboat, the Louise, in 1952.
By then the main cargo was coal, and Crounse went to work moving it for TVA, his former employer, to TVA's Johnsonville Steam Plant near Waverly, Tenn.
"And the loan from Aunt Alice was repaid ahead of schedule," Little said.
The company continued to grow, expanding to the Green River in 1956 and buying Clifton Towing Company, later renamed Southern Barge Line Corporation, in 1959. It remained a subsidiary until 1980. In 1969, Crounse completed another major expansion, opening an office in Maysville in central Kentucky to serve the upper Ohio River.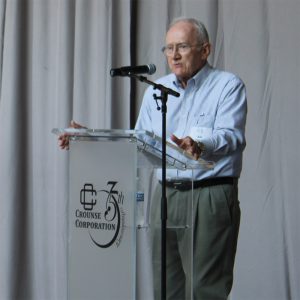 Bill Dibert, who served as the company's president from 1985 to 2001 and as chairman of the board from 1999 to 2008, said that daily, even up until his last day in the office, "Mr. C" insisted on knowing where every towboat was and where it was headed.
Additionally, Dibert said, "He looked at where his people weren't," with an eye toward expanding.
Crounse also took an opposite approach of some others in the industry in encouraging union membership, as he believed it helped promote both a culture of safety and employee happiness, Dibert said.
Dibert said Crounse Corporation has always been most concerned about people. He ended his remarks with a story illustrating that. January 1977, when it was 25 degrees below zero in Maysville, power plants had trouble handling coal because it was frozen solid. It was still possible to break the crust of ice and get to coal underneath the top layer on a barge, but the Ohio River was frozen so solid that cars could drive across it.
"Hundreds of thousands of people in the Upper Ohio Valley were counting on that coal, delivered by Crounse," Dibert said.
Bill Akin, Crounse's Maysville manager during those years, discovered it might be possible to deliver coal to the plant because the bow of the lead barge would ride up on the ice, and the weight would break through.
"That would work as long as we kept moving," Dibert said.
Stopping would have broken the momentum, so when pilots saw a Ford Falcon parked on the ice, just out of the channel, Akin had to weigh the possibility of the ice breaking up and sinking the car or the reality that those depending on that load of coal could freeze to death without electric-generated heat from TVA.
"That ain't a car," he is supposed to have said. "That's an optical illusion. Keep moving."
The load of coal was delivered in time, and the Johnsonville plant was able to keep generating power as a result.
"It is said that we stand on the shoulders of our predecessors," Dibert said. "We are blessed that Mr. Crounse had strong shoulders."
Nearly one-third of Crounse Corporation's history has taken place since George Crounse's passing in 1999, Little said, but noted that the company culture he founded has continued to be a hallmark of the organization.
In his closing remarks, Ricketts echoed those ideas, talking about simple ideas that still work, including aspiring to exceptional customer service, caring for employees, planning for the unexpected and continuing to invest in the company.
"We do that not just in boats and barges, but in people," Ricketts said.
Ricketts noted that while the 6,034-hp. mv. Sandra Holt, planned for in 2019 and delivered in 2021 for use predominantly on the Lower Mississippi River, was the largest in the company's history, Crounse nonetheless committed to training its own employees to operate it.
Even the COVID-19 pandemic did not disrupt those plans, he said.
"We've proven to ourselves we can do that," he said. "We can take those steps and continue to build this company."
As a result, he said in conclusion, Crounse Corporation was proud to announce a second vessel of the same size is expected to come out in December of this year. Harkening back to the company's roots, the new flagship boat of the company will be named the mv. Alice.