Opinion: Fleischmann's earmark requests dominated by $273 million for Chickamauga Lock
View Source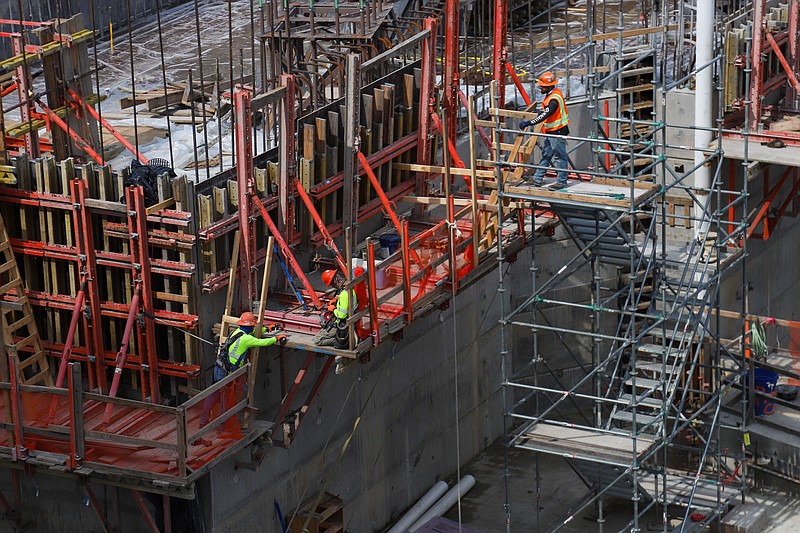 If U.S. Rep. Chuck Fleischmann, R-Ooltewah, has his way, $263.9 million in community project funding — commonly known as earmarks — will flow into Chattanooga from the fiscal 2024 federal budget.
Tennessee's 3rd District congressman has requested a total of $273.2 million in funding, but nearly 87% of that would go toward completion of the new Chickamauga Lock, for which the Army Corps of Engineers decided not to allocate any new funds for more contracts in the current fiscal year while it reassessed its cost and completion schedule.
Officials said earlier this week the new lock could be operational sometime in 2026, with site remediation extending through 2028.
"These projects, like many large Corps projects, have faced delays and cost escalations, including Chickamauga Lock in my district," Fleischmann said in a statement earlier this year. "Execution of the Chick Lock project seems to be on a better path now, but we need to continue working to improve project delivery of these critical water resources infrastructure projects."
The next largest of the seven-term congressman's requests — all of which must identify some federal connection — is $6.4 million for the Alton Park Connector, which in his letter to House Appropriations Committee Chairwoman Kay Granger he calls "a shared use path along a former rail line in Chattanooga that parallels 33rd St. and connects the Riverwalk on the west and Alton Park and Southside Community Park on the east."
He said it "will provide a significant pedestrian and bicycle connection for the dense residential communities that surround it, expanding access to the employment, education, recreation and daily shopping needs along Broad St. and further along the Riverwalk into downtown."
Earlier this year, the city's five-year budget plan called for a total of $5 million in spending on the project in the fiscal years 2025 and 2026. The city also has applied for a federal grant of up to $17.5 million for the connector through the Rebuilding American Infrastructure with Sustainability and Equity grant program.
Fleischmann's next highest Chattanooga area request is $5 million for the widening of Cummings Highway from Browns Ferry Road in Lookout Valley to Tennessee Avenue in St. Elmo. The area includes the narrow lanes of the highway above the Tennessee River which, in heavy traffic, can be treacherous.
His request is "to accommodate current and anticipated vehicle volumes" and "reduce congestion," and will impact two railroad overpasses, and add a median, turn lanes and shoulders.
Fleischmann also requests $4 million for the Electric Power Board (EPB) and $3.5 million for the University of Tennessee at Chattanooga, both dealing with the building of a first-in-the-nation quantum communications network. The request notes that EPB invested $4.3 million in 2022 to begin what eventually will be a $21 million project, and the federal request is "to support network operations, quantum network equipment modernization, quantum research projects, applications development, the development of data analytics to support industry standards and workforce development programs." The UTC portion would be to launch the UTC Quantum Center with equipment that would access the EPB network. UTC already has dedicated $1 million for quantum development and education.
"The commercialization of quantum technology is a major national priority to advance American ingenuity and security," the congressman said in a statement earlier this year when the city announced a quantum initiative with UTC and Chattanooga State Community College.
Fleischmann listed additional federal requests of $3 million for the city's redesign of Broad Street; $2.4 million for UTC to support infrastructure to test emerging mobility technologies in Chattanooga and Cleveland, Tennessee; $1.5 million for United Way of Greater Chattanooga to expand its 2-1-1 call system to include a job line for economic development; and $1 million for the Chattanooga Police Department to upgrade technology.
His other requests total more than $9 million for three projects in Anderson, Campbell and Morgan counties.
Fleischmann's requests totaled slightly over $31.1 million for fiscal 2023 and $87.5 million for fiscal 2022.
Earmarks, banned for more than a decade in an era of more fiscal responsibility by Congress, returned with bipartisan backing in 2021. With Republicans recapturing the House in 2022, new rules were added, including forbidding funds for museums, recreational facilities, Department of Energy green projects and bureaucratic reports for construction projects. The total of House earmarks is not to exceed one-half of 1% of discretionary spending, half of last year's amount. However, since the Democratic-controlled Senate has not agreed to any of the House changes, that will result in negotiations between the two bodies in the fall.
Any pending agreement over the debt limit could also limit the amount of funding for such projects, so the recipients on Fleischmann's list probably shouldn't begin spending their earmarks, or community project funding, just yet.