Corps Celebrates Beginning of Fish Passage Project at Lock 22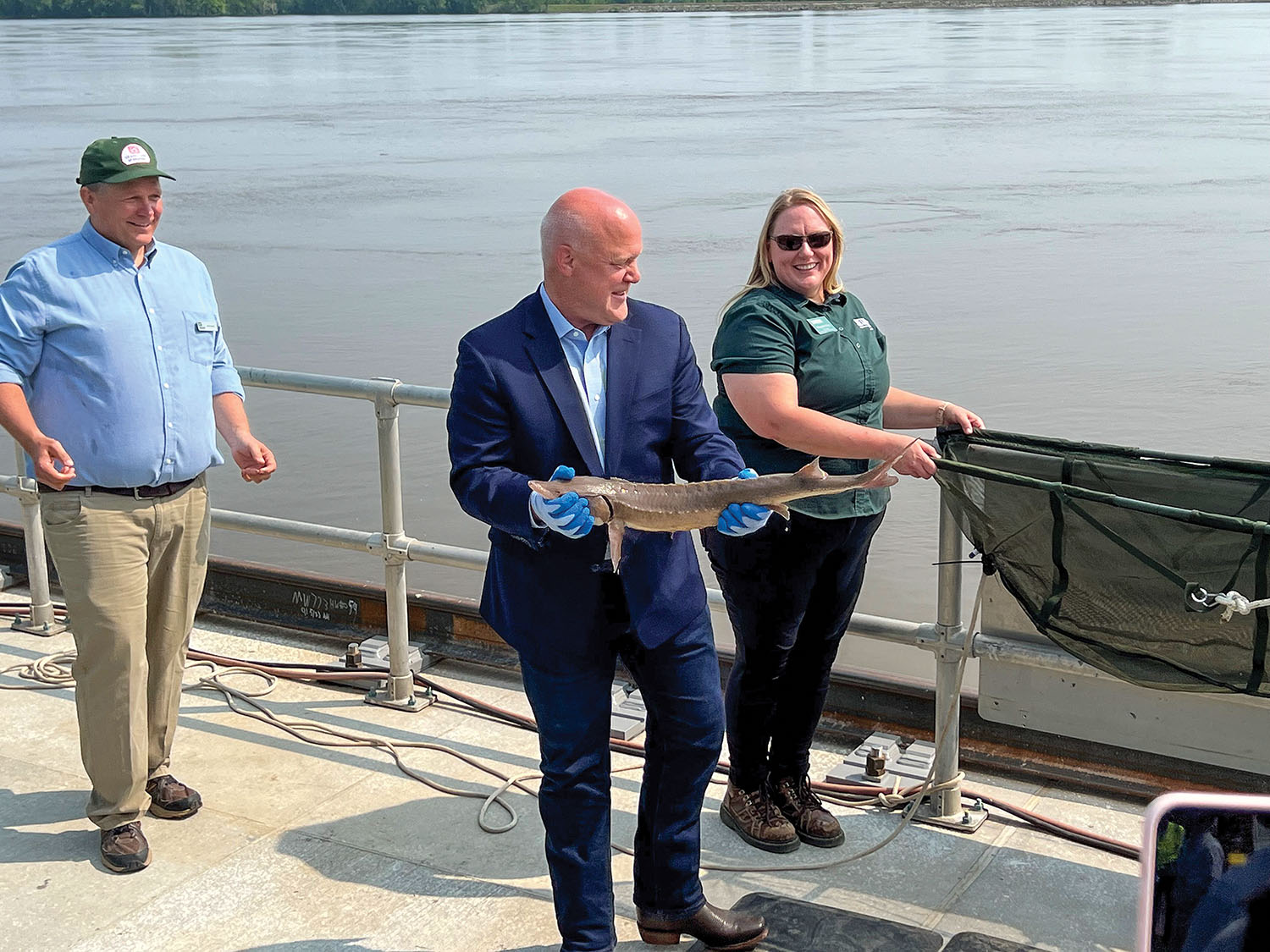 MAY 26, 2023 BY PAUL ROHDE
A pair of events chosen presumably to coincide with the Biden administration's "Infrastructure Week" began with perfect weather on May 18, celebrating the first ecosystem restoration project on the Upper Mississippi River under the Navigation and Ecosystem Sustainability Program (NESP).
The first of five fish passage projects, and the only one of its kind on the Mississippi River, received a groundbreaking at Lock 22 near Saverton, Mo., with a crowd of around 75 onlookers from industry, conservation circles, congressional staff and others interested in—as described by Assistant Secretary of the Army-Civil Works Michael Connor during his speech—"the laudable goal of taking care of the Mississippi River."
Mitch Landrieu, senior adviser to the president and infrastructure coordinator, made the trip along with Connor and Maj. Gen. Diana Holland, commander of the Corps' Mississippi Valley Division. They were joined on the dais by Col. Jesse Curry, Rock Island District commander, and Kirstin Wallace, executive director for the Upper Mississippi River Basin Association.
This was more than a day of speeches and ceremonial dirt shoveling, however. The morning began with Rachel Hawes, the NESP ecosystem restoration project manager, presenting a series of stations for attendees to learn more about how fish passage projects work and why they're important to help native fish species thrive in riverine habitats. A ramp composed of rocks of various sizes, creating a series of rapids, will be installed just upstream of the dam at Lock and Dam 22. Fish as small as minnows and as large as humans will be able to utilize the fish passage to move from Pool 22 to Pool 23.
Sign up for Waterway Journal's weekly newsletter.Our weekly newsletter delivers the latest inland marine news straight to your inbox including breaking news, our exclusive columns and much more.
Mark Cornish, supervisory biologist for the Corps' Rock Island District, said more than 160 species in the area require movements of varying degrees as life requirements. The dam at Lock 22 closes off that movement 70 percent of the time, and the 30 percent where migration is possible is a misnomer, as it doesn't often come during spring, the optimal time for fish movement.
Perhaps the most interesting part of the day culminated with demonstrations of actual tagging of fish caught earlier that morning. A blue catfish, smallmouth buffalo, lake sturgeon, flathead catfish and spoonbill were all tagged with tracking devices as attendees watched.
Connor praised the congressional delegation, who reached out during negotiations on what projects would be included in President
Biden's infrastructure bill, stating, "I'd like to give a special shout-out to Sens. (Dick) Durbin and (Tammy) Duckworth (both D-Ill.), and other friends in Congress in Illinois and Missouri who made [NESP's inclusion in IIJA] happen." Durbin and Duckworth, Connor pointedly noted, "very strongly, in a compelling way, specifically advocated for NESP's inclusion." Connor praised NESP as a "model for all Corps projects, perhaps the largest multi-purpose, multi-benefits project" in the Corps' civil works portfolio.
Connor also lauded Col. Steve Sattinger, current executive officer for the ASA(CW) and former commander of the Rock Island Engineer District, as the "NESP Whisperer," saying he was a constant reminder of the new start needed to get NESP moving.
Landrieu cited NESP as one of the best examples of inter-agency "collaboration, coordination and communication."
"Design follows intention," Landrieu said, referring to federal-state agency collaboration. "It's about getting the 'way' right," he urged. "If you design a cow, you don't want to build a pig." Pointing to the project's completion, he declared the administration "all in" on improving both the ecosystem and navigation components of NESP.
The event concluded with a release of the fish tagged earlier in the morning. Landrieu, naming the lake sturgeon assigned to him "Agnes," released the fish, then quipped that he wanted to track her progress down to New Orleans. Without missing a beat, a biologist handed him a certificate containing the code assigned to the sturgeon's tracking device.
As the event adjourned, several noted the tow locking through the chamber was fitting enough for Landrieu, the former mayor of New Orleans and lieutenant governor of Louisiana – as the boat's stacks were emblazoned with the familiar "C" of New Orleans-based Canal Barge.
Caption for photo: U.S. Infrastructure Coordinator Mitch Landrieu prepares to release a freshly tagged lake sturgeon into the river at Lock 22. (Photo by Paul Rohde)
Paul Rohde is vice president-Midwest Region for Waterways Council Inc. and a WJ contributor.