CARPENTER, ZEA TOUT TOWING INDUSTRY, INFRASTRUCTURE TO OPEN IMX
View Source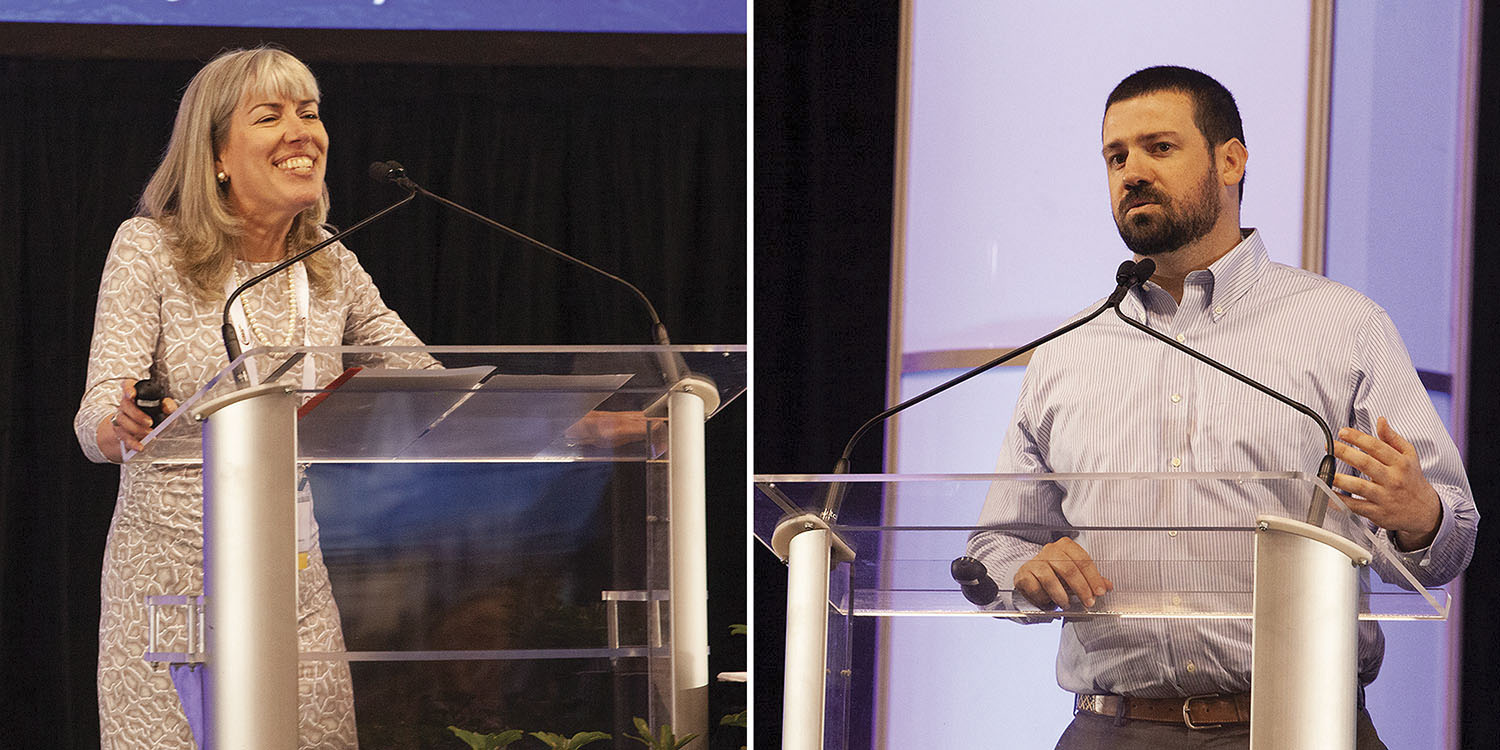 Carpenter, Zea Tout Towing Industry, Infrastructure To Open IMX
MAY 26, 2022 BY DAVID MURRAY
"The towing industry is a leader in supply chain integrity, sustainability and employment opportunity," Jennifer Carpenter, president and CEO of The American Waterways Operators, proclaimed in kicking off the Inland Marine Expo in St. Louis Mo., May 24. "We do cool stuff that's important, and important stuff that's cool."
Carpenter and Tracy Zea, president and CEO of Waterways Council Inc., gave a joint keynote address to open the expo.
Carpenter touted the performance of the towing industry during the stresses and strains of COVID-19 and the disruptions it caused the world's supply chains. "Our industry kept supplies moving when many of our domestic and foreign competitors struggled to do so," she said.
What does the industry need to keep showing that leadership? Carpenter asked. Above all, continued strong support for the Jones Act. While it has historically enjoyed bipartisan support, "Politicians retire or lose elections, and new voices emerge that need to be educated all over again on the necessity of the Jones Act." The industry also needs the Coast Guard to have the next generation of buoy tenders and cutters, and timely dredging of channels and harbors, Carpenter said.
Sign up for Waterway Journal's weekly newsletter.Our weekly newsletter delivers the latest inland marine news straight to your inbox including breaking news, our exclusive columns and much more.
The towing industry is practically unique in that it asked to be regulated 18 years ago, Carpenter said. The July 19 final Subchapter M certification deadline, when 100 percent of the U.S. inland towing fleet will be certificated, is a historic landmark, she said.
The industry also needs Congress to continue to provide a consistent regulatory framework, avoiding a state-by-state patchwork. It must be a framework that keeps pace with emerging technologies and encourages innovation rather than discouraging it, she said.
Carpenter showed a new video made by the AWO to highlight the inland industry and spoke of the importance of videos and social media platforms in spreading the message. "Make a TikTok!" she urged attendees—or at least contact your member of Congress.
Carpenter stressed the leadership of the towing industry in the transition to a greener economy. "Our industry is uniquely positioned to embrace a pivotal role in environmental sustainability and fuel transitions," she said. "Big, hard things get done by people working together—not lone wolves."
But, she cautioned, maritime decarbonization needs to be nimble. "The road to decarbonization has many lanes," she said.
Infrastructure Funding Progress
Zea addressed the last 12 years of infrastructure funding, which began in many ways with the development of the Capital Investment Strategy, a partnership between the Inland Waterways Users Board and the Corps of Engineers in 2010 to prioritize and target major waterways projects in an orderly and strategic fashion. "We kept regionality out of advocacy," said Zea, unlike in former times when lock and dam projects often competed against each other.
The CIS had immediate effect, as part of its agenda was enacted in the 2014
Water Resources Reform and Development Act (WRRDA), which inaugurated a new era of regular waterways funding. That was the same year that the industry voluntarily asked Congress to increase the gas tax it contributed to the Inland Waterways Trust Fund from 20 cents a gallon to 29 cents.
The Water Resources Development Act of 2020 enacted another key part of the inland industry's agenda when it changed the federal cost-share for lock and dam projects to a 65/35 ratio—albeit with an 11-year sunset.
Finally, the Infrastructure Investment and Jobs Act of 2021 dedicated $2.5 billion to the inland waterways, which, as Zea pointed out, was $1 billion more than coastal ports received. Seven lock projects received funding, with four funded to completion, and three more were partially funded. Zea quoted Rep. Cheri Bustos (D-Ill.) saying, "Funding for Lock and Dam 25 and the [Navigation and Ecosystem Sustainability Program] is the single most important accomplishment of my career in Congress."
Speaking of the future of waterways infrastructure advocacy, Zea said the industry priorities remain clear: a permanent cost-share adjustment in WRDA 2022 (preferably to a 75/25 ratio); continued opposition to waterways fees and tolls, an issue Zea said he expects to re-emerge in this time of inflation; and to continue to keep regionality out of lock and dam advocacy.
Caption for photos: Jennifer Carpenter and Tracey Zea speaking at the Inland Marine Expo in St. Louis May 24. (Photos by Frank McCormack)