Industry members should show solid support for the inland waterways, speakers say
View Source
May 24, 2022
Industry members should show solid support for the inland waterways, speakers say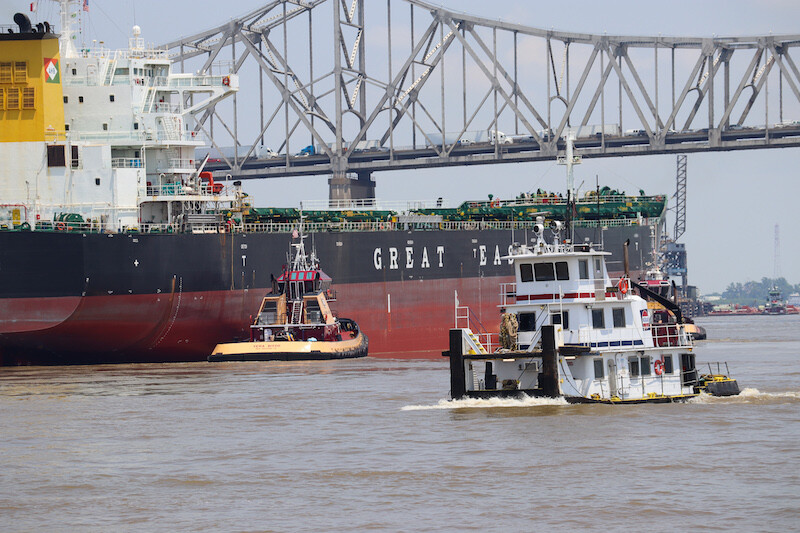 The conference sessions at this year's Inland Marine Expo (IMX) in St. Louis kicked off with a keynote address from two of the industry's biggest lobbying groups — Jennifer Carpenter, president and CEO, American Waterways Operators (AWO) and Tracy Zea, president and CEO, Waterways Council Inc. (WCI).
Carpenter spoke from the trade show floor about her association's efforts to promote the economic and security contributions, as well as the safety and environmental advantages, of the maritime industry, while Zea focused on his group's efforts to ensure the system is efficient and reliable, and receives the necessary funding for much needed lock modernization.
"Our past and our present give us a solid foundation to build on," said Carpenter, calling the tugboat, towboat and barge industry "an indispensable part of the U.S. supply chain today."
The Infrastructure Investment and Jobs Act, signed into law by President Biden in 2021, will provide $17 billion for ports and waterways infrastructure, including $2.5 billion of 100% federal funding for inland waterways construction and major rehabilitation projects, and $4 billion for Army Corps of Engineers operations and maintenance. The money will fund to completion five out of the 15 top priority projects.
Zea called the package "a big win." In fact, the barge industry has been on a roll the last few years. The Olmsted Lock and Dam project across the Ohio River was finally completed, nearly 20 years overdue and severely over budget. The Corps of Engineers budget for civil works projects, which includes waterways construction and maintenance, has been steadily and consistently on the rise, allowing the Corps to better plan for funding and planning complex construction projects. Federal grants continue to flow to develop marine highways projects, many involving container-on-barge concepts, in several ports around the country, and for port infrastructure projects.
The industry has also successfully fought back attempts to disrupt the Jones Act, most recently efforts to secure Jones Act waivers during the U.S. ban on Russian energy imports.
Carpenter referenced the Jones Act while laying out a road map of sorts for her industry. She said members need to show solid support for the Jones Act; commit to modern, well-maintained ports and waterways infrastructure; facilitate safe, efficient sustainable maritime commerce; keep pace with emerging technology; and promote, don't discourage, innovation and investment.
"Where would we be right now if we had to depend on foreign vessels because there was no Jones Act?" she asked, referencing supply chain woes that have been exacerbated by the war in Ukraine, Covid-19, inflation, extreme weather events such as Hurricane Ida last summer, and other challenges. Woes that could be worse if U.S. consumers had to depend more on other countries for their import and export needs. "Thanks to the Jones Act we didn't have to find out."
Carpenter said it is fortunate that the Jones Act today has the backing of so many members of Congress. But, she warned, members retire, or can be defeated in reelection efforts. "We need to educate the uninformed and the misinformed," she said.
Carpenter said industry members can't assume that the general public — the voters — knows what goes on in the tug, towboat, and barge industry. That's why it's important that all of those who work in the industry to get the word out. "We do cool stuff that's important, and we do important stuff that's cool," she said.
Zea said that although there have been recent successes in funding maintenance and repair of the U.S. inland waterway system, this is not the time to take the foot off the accelerator. "Appropriations will be the most important piece of advocacy for the next three to seven years," he said.