LOCK MAINTENANCE WORKSHOP CELEBRATES 40 YEARS OF COLLABORATION
View Source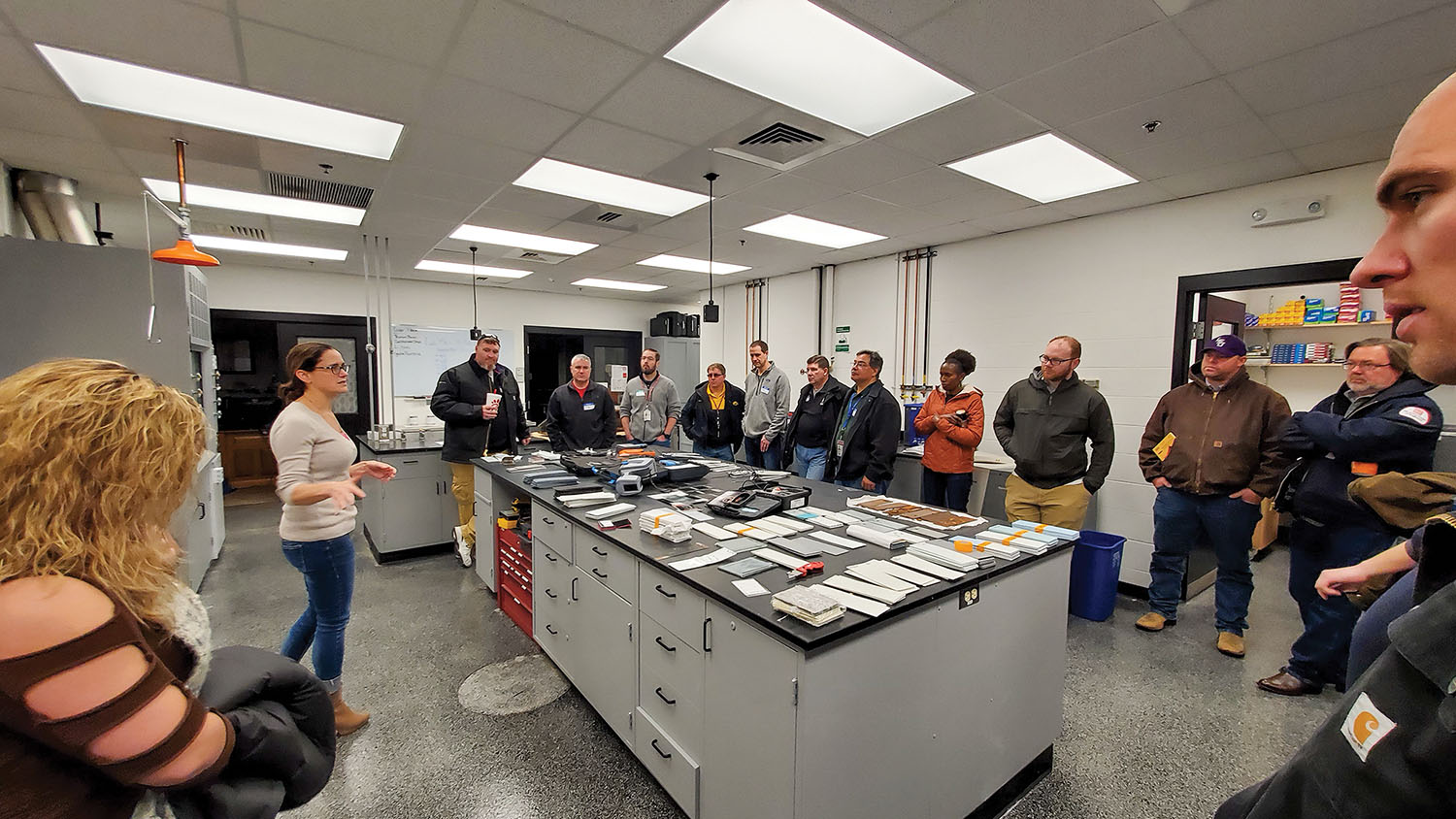 Lock Maintenance Workshop Celebrates 40 Years Of Collaboration
APRIL 1, 2022 BY SHELLEY BYRNE
Now in its 40th year, the Lock Maintenance Workshop has grown from a gathering of a dozen people to more than 150, including international participants.
The workshop, hosted annually by the Corps' Great Lakes and Ohio River Division for government entities, is unique in that it includes presentations by the people actually doing the work on locks and dams and not their supervising engineers or administrators.
"Obviously we get the best information from them as opposed to someone who is trying to retell their story," said Todd Kimery, regional maintenance program manager for the division, who oversees the workshop.
The workshop takes place in late January or early February yearly and moves around the nation. The last in-person workshop was in 2020 in Champaign, Ill. This year's workshop was February 7–9 in a virtual format. Normally, the workshops include two days of presentations and a third day composed of maintenance project site visits. Even with moving online, however, attendance has stayed steady at more than 150 people, with participants including those from the U.S. and Canada as well as from those working on the Panama Canal. At times it has attracted participants from as far away as Brazil and the Netherlands as well.
Successes And Failures
The workshop began in 1983 in Cincinnati, Ohio, as a collaborative regional effort, with just a few Corps districts attending, but it has grown steadily. Instead of showcasing notable achievements and presenting awards, the Lock Maintenance Workshop is meant to be a candid information session with an eye toward helping people in many different regions learn what has worked in maintaining the nation's aging infrastructure as well as, frankly, what has not worked.
"I think that's where we learn the most," Kimery said of showcasing both the project successes and failures.
Organizers believe that open and honest discussion from the people tasked with addressing the problems encountered working on the river is why the workshop is so well attended.
"People usually want to internalize or hide mistakes, but we're comfortable enough with each other at these workshops," said John Cheek, a technical manager with the Inland Navigation Design Center who was heavily involved in organizing the workshop for more than two decades.
"Not many others do what we do for a living, so we're okay with saying, 'I messed up here. Don't do this. Here's how I would have done it differently," he said.
New Research
Although he said operating locks has not changed much in the past half-century, Cheek said maintaining aging locks is a life-long learning process with new discoveries each year. In addition, repairs must adhere to new safety or engineering standards as the chambers age.
Cheek joked that the first health and safety booklet he ever received could fit inside his shirt pocket decades ago. Now, health and safety requirements fill a manual nearly a thousand pages long for necessary reasons. Additionally, engineering practices have improved, and innovative procedures solve maintenance challenges.
"We face a lot of new ways of doing things, so we exchange information at workshops to help other districts," Cheek said.
About one-fourth of the presentations are from the Corps' Engineer Research and Development Center (ERDC), focusing on recently completed studies and studies that are in progress.
For example, the ERDC has been doing research on concrete and looking at how freezing and thawing affect it. Some locks and dams see damage from the freezing and thawing similar to the process that forms potholes in roads.
"The tops of our locks and dams start suffering from similar events," Kimery said. "How do we repair these so it's safe to walk on and doesn't compound other issues?"
Participants have also been very interested in composite materials that have the potential of replacing steel in some cases.
"Probably one of the biggest topics is starting to look at composite materials," Kimery said. "For the longest time we have used steel. We can work with it, and we can make anything we need to out of it, but it corrodes. It breaks down. Especially with the price of steel going up, composites are cheaper, they're a fraction of the weight, and they're pretty resilient when it comes to allisions and things running into them. That's definitely something that has piqued a lot of interest."
The most recent workshop also included a presentation from the Panama Canal Commission, discussing how the COVID-19 pandemic affected their work, including a major overhaul to one of the canal locks.
Value To Participants
Beth Schneller, technical support branch chief for the Pittsburgh Engineer District, said the workshop is one of the most valuable she attends each year.
"Every time I go I learn more about the Corps of Engineers or the maintenance community or just another job that is going on somewhere else," she said.
Schneller noted that the workshop falls at the perfect time each year because maintenance crews have their downtime during the winter months.
Presentations on new technologies and techniques that allow crews to save time or money are especially useful, she said. "We are always looking to do more [with less] because we've got so much work that needs to be done."
Cheek and Schneller said if the workshop didn't exist, the Corps would risk making mistakes already solved elsewhere in the nation, delaying inland navigation and slowing down the economy. There would be several layers of adverse effects, Cheek said.
Over time, one solution that came out of the workshop was improving the process to replace miter gates. Miter gates are massive steel doors that open and close the lock chamber to allow boats through. Each gate can weigh 200 tons or more. Thanks to the annual workshops, districts no longer use a "jacking" method to remove gates, which can cause a lot of damage that requires additional repairs. Instead, the Louisville District introduced an innovative lift system that wasn't destructive, and they shared the results with others.
"All the districts had been jacking gates for 20-plus years until someone introduced a better method during the workshop," Cheek said.
Schneller said she learned about the Ensley Engineer Yard for the first time at this year's workshop. The Corps of Engineers in Memphis, Tenn., operates the maintenance facility, and it can perform massive fabrications to meet districts' needs. The facility has more than 200 employees with a dock of maintenance barges that stretch a mile long on the Mississippi River. Schneller said learning about this capability is significant because it saves the Corps money from outsourcing fabrications that can be accomplished in-house.
Workshop attendees have become a close-knit group, Cheek said, and they stay in touch throughout the year when they need advice or just a second opinion.
"Just as the lakes and rivers cross division and district boundaries, so do the working relationships of the people that maintain the navigation structures. This workshop has been a major factor in building and strengthening those relationships," he said.
Michel Sauret of the Pittsburgh Engineer District contributed to this report.
Caption for photo:Lock Maintenance Workshop participants toured the Corps' Engineer Research and Development Center's Construction Engineering Research Laboratory in Champaign, Ill., during the 2020 workshop, the last to be held in-person because of the COVID-19 pandemic. (Photo courtesy of Great Lakes and Ohio River Engineer Division)