Roughly $858M headed to fix aging Ohio River lock and dam in Beaver County
View Source
WASHINGTON — An "unprecedented" flow of federal infrastructure funds will be poured into long-sought upgrades for one of southwestern Pennsylvania's oldest lock-and-dam systems that is at risk of failing in the next decade.
An estimated $858 million to repair the aging Montgomery Lock in Beaver County was announced Wednesday as part of a multi-billion allocation under the recent Infrastructure Investment and Jobs Act to fund ports and waterway navigation across the country.
The lock, first opened in 1936, spans the upper Ohio River just downstream from the Royal Dutch Shell cracker plant, about 5 miles downriver from Beaver and 3 miles upriver from Shippingport, where a coal-fired power plant and nuclear power plant are located.
"It's unprecedented to be able to have this level of investment at one time," said U.S. Sen. Bob Casey on a call with reporters where he was joined by a Port of Pittsburgh official and labor leaders to tout the funding.
Pennsylvania will receive an extra $1.63 billion in federal infrastructure funds to fix bridges, 3rd most in U.S.
An estimated 20 million tons of commodities pass through the Upper Ohio River lock system, which includes the Emsworth and Dashields locks farther upstream, closer to Pittsburgh.
The Montgomery site has 50% chance of failure by 2028, according to the Port of Pittsburgh Commission.
"There's literally a crack that spouts water between the two walls of the chambers," said Mary Ann Bucci, the commission's executive director. "If that wall collapses and both chambers would be nonfunctional, you close the Port of Pittsburgh pool down. You know that is our gateway to the Ohio River and vice versa for imports and exports."
As of early 2021 figures, coal barges constituted more than half the traffic, along with aggregates, petroleum and chemicals utilized by industry in the region.
"River traffic is something few people think about unless it is shut down. The Montgomery Lock and Dam is nearly 100 years old and if it collapses, we could lose thousands of jobs and add thousands of trucks to our roads, meaning more pollution and traffic. This funding is essential and the result of years of advocacy and old-fashioned, hard legislative work," Rep. Conor Lamb, D-Mt. Lebanon, said in a press release.
The Port of Pittsburgh Commission estimates that more than 76,000 jobs in the Pittsburgh region are dependent on the rivers as a mode of transportation.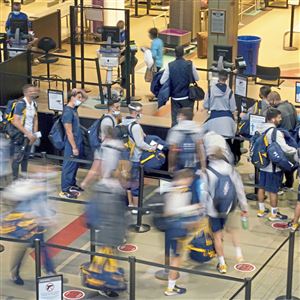 Airports, including those in Western Pennsylvania, first among transit hubs to get funds under bipartisan infrastructure law
In addition to the funds announced for the Montgomery site, the Allegheny County Sanitation Authority is slated to receive about $3.3 million to reduce stormwater overflows just north of Pittsburgh.
The funds are from an overall $14 billion that will be administered by the U.S. Army Corps of Engineers for more than 500 projects on waterways nationwide.