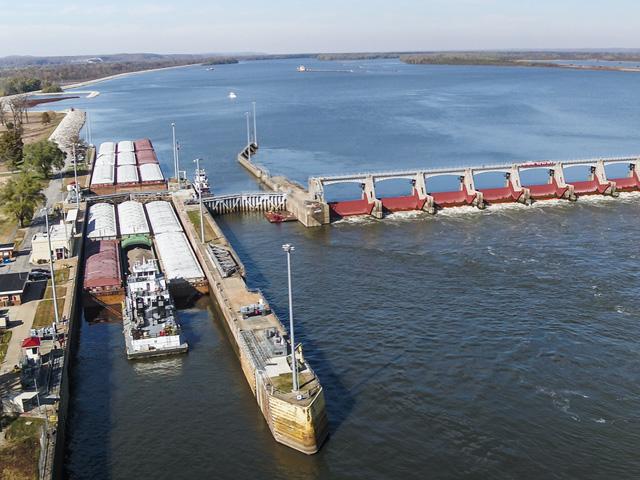 OMAHA (DTN) -- Agricultural groups and lawmakers credited the U.S. Army Corps of Engineers on Wednesday for including an old upper Mississippi River lock and dam on its list of priority projects for 2022.
The Corps on Wednesday released a list of projects that will receive funding this year from the Infrastructure Investment and Jobs Act signed into law by President Joe Biden in November. Included in the list is Lock and Dam 25 on the Mississippi River, an 83-year-old structure near Winfield, Missouri, about 50 miles upstream from St. Louis. Lock and Dam 25 will receive $732 million to complete the design and construction of a new structure.
"We are extremely pleased to report that a significant priority of the soybean farmers -- Lock and Dam No. 25 -- was included on the list," said Mike Steenhoek, executive director of the Soy Transportation Coalition.
Lock and Dam 25 would be the first project under the Corps' Navigation and Ecosystem Sustainability Program (NESP), which calls for the construction of seven new locks, including five north of St. Louis on the Mississippi River, and two on the Illinois River. The Corps also listed some environmental restoration at Lock and Dam 22 and other smaller projects in the region. All told, the NESP projects received $829.1 million.
Mike Seyfert, CEO of the National Grain and Feed Association, thanked lawmakers for highlighting the need to fund the NESP starting with Lock and Dam 25. Seyfert said the project was a long-standing priority for the group.
Farther south on the Mississippi River, the Corps also will spend another $868 million on rehabilitation and repair projects, including $500 million to deal with flood and storm damage projects in Louisiana.
All told, the Corps announced Wednesday it would spend $22.81 billion to fund roughly 500 total projects, including river and port upgrades as well as environmental projects to respond to disasters. Of that funding, about $3.9 billion will go towards specific lock, dam and port navigation projects. Along with the Mississippi River projects, the Corps will spend $858 million to replace locks on the Ohio River. The Corps will also work on projects at key ports in California and Virginia to help address supply chain bottlenecks.
In December, a group of senators also called on the Corps to prioritize funding for the NESP. The work on all seven locks as part of NESP is projected to generate roughly 50 million work hours for construction jobs. A USDA study had shown rebuilding the NESP locks would inject $72 billion into the national economy.
Farm groups had highlighted Lock and Dam 25 because of its age and its size. The lock and dam currently can only handle a 600-foot barge tow, which is half the size of the standard barge tow that moves up and down the Mississippi River. For now, a standard 15-barge tow showing up at Lock and Dam 25 must be taken apart on one side of the lock, then reassembled on the other side. A typical half-hour transit can take more than two hours. Construction will include a new 1,200-foot by 110-foot lock chamber that will be built next to the existing lock. This will allow a typical 15-barge tow to move through in a single pass.
"In addition, a second lock will provide needed resiliency and redundancy -- allowing a key link in the supply chain to remain operational if one of the lock chambers was closed," Steenhoek noted.
Last November, a collection of groups led by the United Soybean Board offered to spend $1 million to help offset some of the pre-engineering and design costs for the Corps as an incentive to help get the project underway. Other groups such as the Waterways Council Inc., had highlighted if Lock and Dam 25 shut down because of damages for some reason, it would cost nearly $1.6 billion and lead to an increase of more than 500,000 truck trips to make up for the lost barge shipments.
The Infrastructure Investment and Jobs Act, which President Joe Biden signed into law on Nov. 15, provides the Corps of Engineers with $17.1 billion in emergency appropriations. The legislation had required the Corps to detail its spending plans for at least some of the projects in mid-January.
USDA released a study in 2019 highlighting the Mississippi River system, showing Lock and Dam 25 sees roughly 200 million bushels of soybeans move through it each year. That same study also concluded that $6.3 billion spent during the next decade to upgrade the lock and dam system would increase agricultural sales by as much as $142 billion through 2045. Such investment in inland waterways infrastructure would also create 77,000 jobs.
Chris Clayton can be reached at Chris.Clayton@dtn.com
Follow him on Twitter @ChrisClaytonDTN