AS CONSTRUCTION HUMS AT LOCKS AND DAMS PROJECTS, TRUMP BUDGET ZEROES OUT NEW FUNDING
View Source
As construction hums at locks and dams projects, Trump budget zeroes out new funding
DANIEL MOORE
Post-Gazette Washington Bureau
FEB 12, 2020
4:30 AM
WASHINGTON — Mary Ann Bucci, executive director of the Port of Pittsburgh Commission, arrived in the nation's capital on Tuesday with a sense of alarm.
Ms. Bucci — whose agency oversees 200 miles of river that move nearly 30 million tons of commodities annually through the Pittsburgh region — contended with a 2021 White House budget proposal that included no federal funding for critical construction projects along inland waterways across the country.
At the same time, President Donald Trump's budget proposed commercial operators pay new annual fees of $180 million, in addition to $120 million in fuel taxes already assessed each year.
"That would just devastate the industry," Ms. Bucci said. "You can't sit there and tax someone without spending it. Where is that money going?"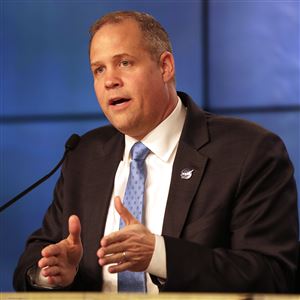 After Trump releases his budget proposal, NASA's chief says it's 'up to us to deliver'
The confusion over the president's budget request, unveiled this week, highlights the annual tussle to secure funding to complete aging locks and dams, which facilitate commercial traffic. For Ms. Bucci and other waterways officials, it gave added importance to their regular sojourn to Washington for a meeting and a round of lobbying on Capitol Hill.
After all, the president's budget request, delivered to Congress this week, is merely a statement of priorities; lawmakers decide on the final spending figures. The White House proposal jump-starts the appropriations debate in Congress, a process that in recent years has stretched well beyond the fiscal deadline of Sept. 30.
The Senate Finance Committee is scheduled to hear from Treasury Secretary Steven Mnuchin on Wednesday and Thursday, giving both Pennsylvania senators a chance to weigh in and ask questions.
Mr. Trump, while pledging support for rebuilding American infrastructure, has been inconsistent in budget proposals for locks and dams in dire need of upgrading.
Last year, Ms. Bucci was surprised — pleasantly — when Mr. Trump proposed to fully fund to completion the Monongahela River locks and dams project Approved by Congress last year, the $111 million is expected to complete the project by fiscal year 2023.
In previous years, however, Mr. Trump zeroed out that project in his proposal, prompting Sen. Bob Casey, D-Pa., to visit Pittsburgh to call attention to the issue. Prior administrations also shorted the project, causing construction costs to more than triple from its original estimate of $750 million in 1994, Ms. Bucci said.
While the Mon River project heads to a finish, local officials are turning attention to the Upper Ohio Navigation project, which plans to upgrade the Emsworth, Dashields and Montgomery locks and dams. Those facilities were built between 1919 and 1936 and are the oldest locks on the Ohio River.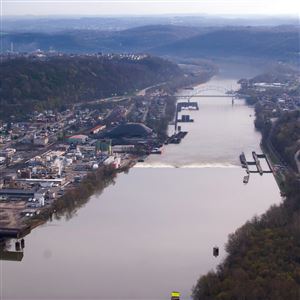 Trump budget proposes funds to finish Lower Mon locks and dam project
On Tuesday, the U.S. Army Corps of Engineers announced it would spend $7.7 million this year in previously allocated money on pre-construction engineering and design. The Army Corps has recommended the replacement of each auxiliary lock with the construction of one new, larger lock chamber at each facility.
But Mr. Trump's budget proposes to eliminate that work next year.
The Waterways Council Inc., a Washington, D.C.-based advocacy group representing water transportation operators, called the budget proposal "astonishingly inadequate."
In an interview Tuesday, Debra Calhoun, a spokeswoman for the Waterways Council, said she had come to expect a proposal to "low-ball" infrastructure projects. "But we have never gotten zero," she said. "So our reaction was shock."
Waterways projects are funded by a federal trust fund, akin to the Highway Trust Fund for roads and the Airport and Airway Trust Fund for airports.
The Inland Waterways Trust Fund is sustained by a 29-cents-a-gallon fuel tax on commercial operators: the tug boats that move barges of coal, sand, grain and other commodities. The federal government matches whatever dollars are spent from the fund on infrastructure projects.
Mr. Trump's budget proposed spending no money from the trust fund in the 2021 fiscal year, while collecting fuel taxes and imposing a new user fee on vessels.
An official with the White House Office of Management and Budget did not return a request for comment.
Waterways officials have reason to think lawmakers may take their side. Congress has stepped in to boost funding for Pittsburgh-area projects in years past.
A bipartisan group of lawmakers worked together to secure the 2020 spending on the the Upper Ohio locks and dams project.
"This project has widespread, bipartisan support because everyone recognizes the value this infrastructure investment will create," Rep. Conor Lamb, D-Mt. Lebanon, said in a statement joined by Rep. Mike Doyle, D-Forest Hills, and Rep. Guy Reschenthaler, R-Peters.
"I've been working to upgrade and replace the existing locks and dams throughout my time in Congress," Mr. Doyle said.
Mr. Reschenthaler added the project "will ensure industries in our area, such as coal and steel, can maintain their competitive edge."
Daniel Moore: dmoore@post-gazette.com, Twitter @PGdanielmoore.