AS STORMS CONTINUE IN 2020, MAYORS SAY FLOOD IMPACT TO MISSISSIPPI RIVER CITIES, PORTS & FARMERS WILL REQUIRE NEW INFRASTRUCTURE SPENDING & FACTORING CLIMATE CHANGE
View Source
As Storms Continue In 2020, Mayors Say Flood Impact To Mississippi River Cities, Ports & Farmers Will Require New Infrastructure Spending & Factoring Climate Change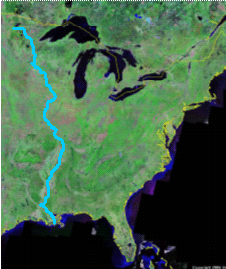 By Stas Margaronis
The catastrophic flooding of 2019 appears to be repeating itself in 2020 with another round of rains and flooding that have motivated Mayors from hard-hit Mississippi river cities as well as farmers, shippers and ports to demand that Congress and the Trump administration invest as much as $12 billion to: upgrade neglected waterways, repair flood damage and factor climate change into the cost of federal programs as insurance against future floods and droughts.
On January 11th 2020, CNN reported: "Across the central US and the South, severe storms marched east, impacting the entire Mississippi River and Ohio River valleys.
Tornadoes were reported in Kentucky, Arkansas and Alabama, and five million people were still under tornado watches. The National Weather Service issued a watch Saturday afternoon (January 11th) for parts of Georgia, North Carolina and South Carolina until midnight EST.
The storms have led to the deaths of at least eight people across the South since Friday night: two in Texas, three in Louisiana and three in Alabama…"
In Ohio: The Cleveland office of the National Weather Service said Saturday afternoon the strong weather front made for a 29-degree temperature difference between Cleveland's airport (70 degrees) and Lorain's airport (41 degrees), which is 20 miles away.
Heavy rain and strong winds were pounding parts of the South, downing power lines along the way. More than 350,000 homes and businesses were without power in 10 states – Georgia, Louisiana, Arkansas, Mississippi, Alabama, Tennessee, Kentucky, Ohio, Texas and West Virginia.."
The Trump administration is increasingly at odds with the priorities of these Mayors, many of whom represent Republican constituents, and is now prohibiting federal agencies from factoring climate change into spending for new federal authorizations.
As the 2020 elections approach Republicans are joining with Democrats to override some Trump administration infrastructure spending limits.
The passage of the Energy and Water Development (E&WD) and Related Agencies Appropriations Act provides more support for the U.S. Army Corps of Engineers projects and for Mississippi river communities devastated by the 2019 floods, but more needs to be done according to Colin Wellenkamp, executive director of the Mississippi Rivers Cities and Towns Initiative (MRCTI), based in Saint Louis, which represents 95 Mississippi cities and towns from St Paul, Minnesota to New Orleans in 10 states.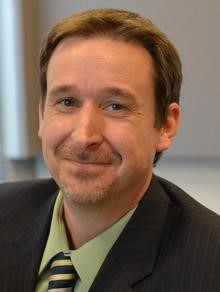 Colin Wellenkamp
Energy and Water Development Act Provides Additional Funding – Beyond Trump Administration Requests
The overriding of some Trump administration budget requests was highlighted In a December 19th press release issued by the Waterways Council, Inc. representing waterways carriers, shippers and port authorities. WCI praised passage of the E&WD bill for 2020 as it: "funds the (U.S. Army) Corps of Engineers' Civil Works mission at $7.65 billion, $652 million above the FY19 (Fiscal Year) enacted level and $2.69 billion above the President's budget request."
The Waterways Council summarized the impact of the bill's passage including instances where House and Senate representatives overrode Trump administration budget requests:
*Congress adjusted the Construction cost-share for Chickamauga Lock, to 65% General Revenue funding/35% Inland Waterways Trust Fund (IWTF) as opposed to 50%/50%. "This change enables efficient funding of all ongoing construction projects to advance their delivery date and lower final project costs."
*The Construction account will receive $2.68 billion or "$1.37 billion more than the President's FY20 request, and $498 million more than the FY19 enacted level."
*The (U.S. Army) Corps' Operations & Maintenance (O&M) account is funded at $3.79 billion, "which is $1.86 billion above the President's FY20 budget request."
*Harbor Maintenance Trust Fund (HMTF) projects, that support U.S. ports, will receive $1.63 billion, "an increase of $665 million above the President's FY20 request."
* Mississippi Rivers and Tributaries (MR&T) will receive $375 million in FY20.
Wellenkamp also praised the bill's passage which "provides support for Mississippi river cities thanks to the efforts of Senators representing our member states but provisions for flood control, civil works, and items such as the Navigation Ecosystem Sustainability Program are being funded but not at the levels that we need to support wetlands augmentation and other programs to protect cities."
$12 Billion Needed To Upgrade Flood Controls
Wellenkamp says the price tag for reconstruction is getting more expensive and now there is 2019 flooding damage to repair, "Our estimate is there is an immediate need for $1 billion in wetlands augmentation."
In addition, "There is a $2.2 billion investment necessary to rebuild locks and dams in Missouri and Illinois that will improve tug and barge traffic and also improve flood controls. Altogether we believe there is a total need for a $12 billion investment to upgrade flood control systems along the entire Mississippi River."
In 2019, Debra Calhoun, senior vice president for the Washington, D.C.-based Waterways Council, Inc. said: "In a disaster like this year, you do see the importance of a resilient and reliable inland waterway system for shippers."
The Waterways Council continues to urge that the waterways be included in any infrastructure bill that Congress will consider. Unfortunately, she said, as long as there is no agreement on the revenue source, the necessary investment for flood control for Mississippi river communities and commerce remains "pie in the sky."
The Council is urging the funding and completion of 25 lock and dam projects, including projects located along the Mississippi, requiring $8.8 billion "which is a drop in the bucket compared to the billions required to fund upgrades to the highways."
Importance of Wetlands Augmentation
In July, Wellenkamp told The Waterways Journal that 2019 flooding made clear that flood protections need to rely more on wetlands augmentation and less on flood walls and levees: "The town of Davenport, Iowa, deliberately refused to build a floodwall to protect its downtown. Two square blocks were flooded this time around when the corner of a protective barrier failed… Davenport was designed to let the river in and thank God it did! If it hadn't, the city of Buffalo (Iowa, immediately downriver from Davenport), would have been gone. The further south you go on the Mississippi River, the worse the effects."
He added that wetland areas alongside rivers can absorb and divert floodwaters like sponges. Thus, levees should be set back to allow more room for the river during floods. Landowners along the rivers should be compensated for any added risk of flooding.
2019 Flood Impact on River Cities
Wellenkamp described the impact of the 2019 flooding on a number of cities:
Saint Louis was "not hit hard but areas nearby such as West Alton, Missouri were hit hard."
Cairo, Illinois had some impact but it was gradual, not sudden, but again areas nearby areas were hard hit.
Griffith, Illinois was very hard hit
Davenport, Iowa "had the highest flood level in its history."
Vidalia, Louisiana had 270 days of flooding in 2019
Memphis, Tennessee was "impacted by tributaries that run through the city and flooded the city as a result of the high flood water on the Mississippi forcing the tributaries to back up in to the city."
Baton Rouge, Louisiana had flooding north of the city. There was also "hydrostatic damage in Baton Rouge caused by water that went underground and disrupted the infrastructure. An example: sewer and water pipes were torn apart."
"Hydrostatic damage impacted many Mississippi River cities in 2019 because of prolonged flooding that went underground and under levees that disrupted pipes and other infrastructure."
Oklahoma and Arkansas: There was substantial flooding from Kansas City to Tulsa, Oklahoma and through Arkansas. Flooding occurred at cities including Fort Smith and Little Rock as the swollen Arkansas River flowed into the Mississippi.
Other impacts of the flooding were:
Grain Exports: "Farmland used to grow grains were flooded or suffered from late planting. Even if you could grow your crop, you often could not transport your crop to a grain elevator because of flooding. We had a conference call from the American Soybean Association telling us their exporters suffered substantial losses because grain elevators could not be accessed and transport by truck and by water was disrupted for a lot of 2019."
Infrastructure Reconstruction Shortfalls: "Congress provided substantial federal funding in 2019 which was helpful but not sufficient to cover losses suffered by cities along the Mississippi. We are looking at public private partnerships between cities and financial institutions to ease the funding shortfall needed to repair and improve flood control, and repair infrastructure."
Amplifying on these themes was testimony delivered on December 10, 2019 by Mayor Tim Kabat of La Crosse, Wisconsin, speaking on behalf of MRCTI cities, before the U.S. Senate Committee on the Climate Crisis.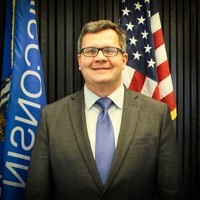 Mayor Tim Kabat
Importance of Factoring Climate Change In Federal Projects
Mayor Kabat warned of the growing threat of climate change and the need to factor it into a new infrastructure spending:
"Another important step this committee can take is by working to include climate risk reduction capacities into other federal programs such as the Emergency Watershed Protection Program… the Urban Community Forestry Program, and the Wetland Development Program Grants just to name a few. Major authorization vehicles such as the highway bill and the Water Resources Development Act can also benefit from an overarching directive that rewards projects with climate or disaster mitigation platforms. …."
Trump Administration Opposes Factoring Climate Change
Unfortunately, the Trump administration appears to be at odds with these Mississippi river cities as it continues to eliminate provisions that factor climate change in spending for federal programs.
On January 3rd, 2020 the New York Times reported: "Federal agencies would no longer have to take climate change into account when they assess the environmental impacts of highways, pipelines and other major infrastructure projects, according to a Trump administration plan that would weaken the nation's benchmark environmental law.
The proposed changes to the 50-year-old National Environmental Policy Act could sharply reduce obstacles to the Keystone XL oil pipeline and other fossil fuel projects that have been stymied when courts ruled that the Trump administration did not properly consider climate change when analyzing the environmental effects of the projects."
Vulnerability of Mississippi River Agriculture, Waterborne Commerce and Ports
Mayor Kabat went on to describe the region's economic impact: "The 31-state Mississippi River Basin produces more agricultural commodities than any other river basin on Earth and our basin has the most untapped commodity production capacity. The Mississippi River makes possible our nation's only trade surplus. The Mississippi River generates nearly $500 billion in annual revenue for the nation directly supporting 1.5 million jobs. The three top-performing economies on the Mississippi River include manufacturing, tourism, and agriculture in that order. In my state of Wisconsin, waterways and ports support over 26,800 jobs adding $4.9 billion to my state's economy. "
Kabat noted other agricultural impacts: "Specifically, relevant to this committee, Minnesota, Wisconsin, and Illinois are among the top ten performing states for cash receipts generated from agricultural production. Further, of the top five U.S. commodity exports, three of them are agriculture commodities (soybeans, corn, and wheat) which are majority produced in Mississippi River States and mostly moved on the Mississippi River through our ports."
That economy is now at risk due to radical changes in climate: "Yet, all of the economy and export potential I just described are at grave risk from persistent and worsening disasters. From 2005 to 2019, our corridor has sustained over $200 billion in actual losses due to natural disasters. My state of Wisconsin has incurred no less than $5 billion in actual losses in that time period. I know that water security is especially a significant issue to many members of this committee."
Flooding and Drought
The problem is not just flooding but also heat and drought: "One may think our problem along the Mississippi is too much water. While that was certainly the case this year, we are actually more concerned about drought and intensifying heat. The 50-year drought of 2012 in our region cost the nation $35 billion in actual losses and was the second most expensive disaster on Earth that year. The 500-year floods of 2011 in the lower stem Mississippi topped out at just over $4 billion in losses, but the 2012 drought cost us over eight times that amount."
Mayor Kabat detailed the impact of 2019 flooding: "It's hard to overstate what we have sustained this year. The 2019 flood was the largest and longest in U.S. recorded history. This flood stretched from my area to New Orleans and spanned from Pennsylvania to Oklahoma, it was truly a basin-wide event. Fourteen million people displaced, 19.3 million acres unplanted, and over 270 consecutive days of flooding in some areas describe this record-breaking disaster. The river at La Crosse was above flood stage for 89 days. Illinois communities along the Mississippi River lost as much as 80 percent of their season economy. Red Wing, Minnesota sits on the river just 90 miles north of me and if my friend Mayor Sean Dowse were here, he would likely talk about the inundation damage he has sustained this year… From initial inspection, we are looking at an estimated impact of over $2 billion in damage for the Mississippi River corridor and costs north of $4 billion for the larger basin….".
Kabat said innovative new infrastructure solutions will be necessary that will require new spending: "What I have just described would appear to be an overwhelming problem of seemingly insurmountable measure. Definitely, what we are facing could be characterized as the challenge of our time… On July 24, our Mayors stood next to Congresswoman Angie Craig of Minnesota, Congressman Rodney Davis of Illinois, and Congresswoman Dina Titus of Nevada in the U.S. Capitol to introduce the Resilience Revolving Loan Fund Act of 2019. If passed, this Resilience Revolving Loan Fund would be the first of its kind within the Federal platform. The RRF Act of 2019 actually prioritizes for projects that augment natural infrastructure creating more natural assets to further clean our water and absorb climate impacts."
Investment Priorities
Finally, the Mayor noted three priorities for U.S. Senators to consider in the reauthorization of the Water Resources Development Act (WRDA) in 2020:
Disaster Prediction Improvements—Similar to what was authorized in WRDA 2014 but with hardware and software additions specifically aimed at capturing more real-time data on water levels and inundation mapping capabilities;
Natural Infrastructure Mitigation Capacity Study: "Wetlands, marshes, forests, connected floodplain and backwater areas play a multi-billion-dollar role in helping cities manage and regulate water as well as absorb GHGs (Greenhouse gases). But it is not well understood how these assets can work collectively to protect critical national infrastructure through the corridor so Mayors know where to deploy, restore, and/or augment natural infrastructure to achieve the best mitigation results; this study will equip them with that knowledge…"
Recovery Bond Pilot: "Not dissimilar to profit repatriation legislation or Build America Bonds, these recovery bonds would allow for private capital to flow into recovery and resilience projects by providing a subsidy to the issuer of the bonds at the rate of 35% of the interest paid by the issuer. "
Conclusion
In conclusion, Mayor Kabat told U.S. Senators that he was accompanied by "Mayor Belinda Constant of Gretna, Louisiana. Mayor Constant is our Louisiana Chair; her city is situated directly across the Mississippi River from New Orleans. She thought it important to be here today to prove to the Committee that our effort is truly corridor-wide running all 2,500 miles of waterway through the center of the North American continent."
Mayor Belinda Constant